When you make your special legacy gift to the Center for Courage & Renewal, you will be helping people from all walks of life live and lead courageously! The stories below are just a few examples of just how much good happens in the world when generous people like you leave a legacy of heart and courage.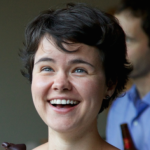 Your support of the Center helps Lennon Flowers, and other young leaders, stay in the game—bringing passion and energy to their important work!
Lennon Flowers had a lot on her plate. She is co-founder and Executive Director of The Dinner Party, a new national organization forming community using potluck dinner parties among people in their 20s and 30s who've each experienced significant loss.
She felt the burden of heavy demands and an urgency to make a difference.
"This startup year was a challenging one, I felt consumed by endless to-do lists, worries about money, and the gnawing sensation that whatever I was doing wasn't enough. I was perilously close to burnout."
Lennon hadn't made space for her own renewal. Instead she was questioning her every move.
But with donor and foundation support, Lennon attended a retreat for her own self-renewal. Even more amazing, she's weaving Courage & Renewal practices into the fabric of her organization, which helps connect people in their 20s and 30s who have experienced significant loss. "Courage & Renewal has had a catalytic impact on our work."

Olivia's transformation—from a teacher on the verge of quitting to a teacher who's changing students' lives forever—is just one of the ways your support of Courage & Renewal reaches many different people.
"I was doing a terrible job. It wasn't good for my kids or for me," said high school teacher Olivia Olson. "My kids deserve amazing teachers."
Olivia was going to quit. It was her first semester teaching on the Standing Rock reservation and the heartbreaking realities all around overwhelmed her. It's an all-too-common scenario for new teachers in South Dakota.
Olivia participated in a WoLakota Courage to Teach retreat series. The experience changed her life and kept her from quitting.
Courage to Teach also taught Olivia to create the safe space for students to share their feelings, embrace their cultural identities and practice reflective self-care. "I tell my kids, 'There are ways to take care of yourself so you don't end up dropped out or dead. You are at stake and so is your future.'"

"I believe there comes a time in our lives when we must stand up and say, 'I'm not going to stay silent. I'm not going to pass the microphone. I have something I need to say,'" said Reverend Alison Harrington.
Rev. Alison's 'courage to act' is an amazing story of your support!
There was little time to think. If no one acted soon, Daniel would be deported to Mexico. His 13-year-old son Carlos and his wife Karla would be left behind. After 14 years of working, paying taxes and raising a family in the U.S., Daniel faced the horrifying prospect of returning to Sinaloa. Sinaloa is home to the world's most powerful drug cartel. A dangerous place. Daniel's only hope of keeping his family together rested with a nearby church.
With great courage, Reverend Alison Harrington led her church's decision to answer the call for social justice. "We are making sure his son and wife do not become an orphan and widow," she said.
Tucson's Southside Presbyterian Church made the brave decision to offer sanctuary to Daniel. The first church to start the Sanctuary Movement 30 years ago once again kept an immigrant family together.
As a Fellow in the Beatitudes Society, Alison participated in a retreat series led by John Fenner, Courage & Renewal Director for Clergy Programs. That gave her the confidence to trust her inner wisdom during a hectic, chaotic time.
"I needed more courage than I normally do. But because of all the amazing work John Fenner had done with us, I was able to stay centered and draw upon a deeper strength."

Your gifts to the Center for Courage & Renewal are healing hearts divided by serious issues of race and class.
"I came here because I was losing hope. My hope has been restored with fire." Those are the words of gratitude one participant shared after she attended a racial healing retreat based on the Courage & Renewal approach.
Facilitators Bev and Caren used the Circles of Trust approach and changed the way race conversations happen in Kalamazoo, Michigan. They helped people practice empathy and forgiveness across racial lines. "There's a human need to connect, and that's what Circles of Trust give people."
"The heart of the work we do is setting up the opportunity and the safety for people to share their stories," said Bev.
"Courage & Renewal practices create the container for trust. They are the bedrock. I can't imagine having that kind of depth, honesty, trust and safety, without the Touchstones," said Caren.
"The real takeaway," Bev added, "is that it's possible to have these conversations without hostility, anger or judgment — things people usually experience when they start to talk about race."
In these difficult times, it's vital to address racism not just at the institutional level, but also at the human level too. To understand each other as humans is how we build trust, paving the way for larger changes.
Y

our gifts to the Center are helping doctors serve their patients with greater heart and humanity.
"One of the major causes of burnout is that we don't have the joy in medicine anymore. We need to bring back joy to prevent burnout," said Dr. Mukta Panda.
Medicine is demanding and can often feel like an emotionally draining profession. Long hours, years of training, intense competition, high stakes and tremendous levels of stress— it's no wonder that physician was named the second most suicidal occupation in the U.S., or that burnout is happening at alarming rates.
With help from Courage & Renewal retreats and programs, many physicians have rediscovered the joy in medicine, helping them be more resilient and humane in their practice. Dr. Panda was introduced to Courage & Renewal practices that inspired her to use reflective skills to help the medical students she teaches at the University of Tennessee School of Medicine.
"We knew some of our residents were having personal problems. So we decided to bring reflective practice to the wider group. We held sessions where the goal was to create an encouraging environment to discuss personal care and humanistic growth."
Mukta and a clinical psychologist ran an 18-month research project and found that the residents who attended at least three of her sessions per quarter had positive coping skills.
"Courage & Renewal practices reconnect us to the deepest core of why we went into medicine," Mukta said. "It reminds us to be deeply present — and we feel joy with that. When we connect who we are as physicians, why we're doing it, we are able to do our work with intentionality."
Not only did Mukta's medical students and resident trainees learn to be more resilient under stress, they also learned the value of compassion in medicine.
"Sometimes you tend to see a patient as an entity, not a person. We're taught to follow protocol, do A then B," said one resident. "Mukta taught us that to be a good physician you have to have an element of humanism."